I love mussels.
Seriously, mussels rock.
Not only are they a delicious seafood/shellfish, but they are cheap, they are easy, and for some reason we all see them as fancy.
Now that's a home run.
Mussels are super popular at restaurants lately, big bowls of them with beautiful broth and salty, crunchy frites, or in a soft tomato broth with pasta or bread. I think we often don't realize what a great at-home item mussels are, since they're not always at the local grocery store, but oh man.
So going back to why they rock, first of all, they're cheap. I mean, really, really cheap. Cheaper than any fish. I picked up a pound at Costco for $5. And even at someplace like Whole Foods, they're
maybe
$6 a pound. And a pound is a LOT of mussels!
Now they're also easy. How easy? Make some sort of broth/sauce. Add mussels. Put top on. Take top off 5 minutes later. Done.
Have I gotten you hyped up enough about mussels yet??
Good.
Recipe time.
Spicy Tomato Pasta with Mussels
we made this up too -- do you see a trend here?
- Olive oil
- 3 cloves garlic, chopped
- 1 shallot, diced
- 3 green onions, thinly sliced, save greens separate from whites
- 2 medium tomatoes, rough chop
- 1 cup white wine
- 1/2 cup chicken stock
- Red Pepper Flakes
- Pepper
- 1 lb mussels
For this recipe, you'll want to use a large, deep pan with a lid. I used this one: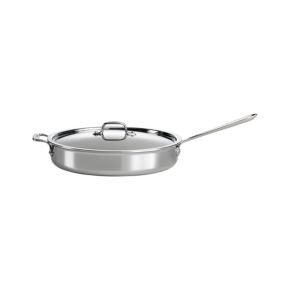 Put some olive oil in the pan (1 tbs or so) and put on medium-high heat. Once it's warm, add the shallots, garlic, and the white part of the green onions to the pan. Sautee for a couple minutes. Then, add the tomatoes and stir for 1-2 minutes. Next add the white wine, chicken stock, and red pepper flakes (to taste). Bring to a simmer and put the top on for 5-10 minutes.
Remove lid, and add mussels. Do not add any mussels that are not shut tight. If they are open at all, they are dead and not good. Spread the mussels out and put the lid back on. Keep at medium heat for 5-7 minutes.
Remove lid, and all mussels should have opened and cooked. If there are any unopened mussels, discard them. Sprinkle the remaining chopped green parts of the green onion over top.
Serve over pasta, and be happy :)