I cannot even
begin
to tell you how excited I am to be going to the Creative Estates crafty bloggin' conference!
Located right in my hometown of Chandler, Arizona, the Creative Estates conference will be a whole weekend full of meeting fellow crafty bloggers, learning about photography, PR, and more at their many breakout sessions, and really just kick-starting my creative mojo!
Not to mention I get to go home and visit my mama :)
They also have a handmade market available where little shop owners can buy a booth to sell their goods. Perfect for Etsy shops!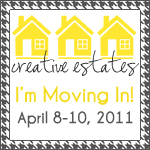 If you live in the area, or just have a hankering to fly to AZ in April, you should come!